The information that is offered in affiliation with the website and related sites, is intended to be for educational purposes only.


Welcome

Welcome to the Chicago Sleep Group of Suburban Lung Associates. The Chicago Sleep Group (CSG) is a team of health care providers that specializes in treating people with sleep disorders. We provide a comprehensive and individualized approach to sleep health.

Over 40 million Americans are affected by sleep disorders. Sleep disorders can affect performance at home, work or school, and can even affect an individual's relationships with family and friends. Once properly diagnosed, sleep disorders can be successfully treated.

---

Night Shift Work Study


Do you find that you are sleepy late in your shift?
Are you sleepy on the commute home?

If so, you may suffer from shift work disorder (SWD), which affects 1 in 4 people who work the night shift.

Click Here to enroll in this study.

---

Learn more about....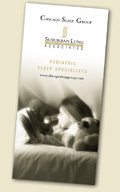 Pediatric
Sleep Specialists
Learn more about your sleep!
Keep a Sleep Log



(mouse over for more info)